Our People
At the heart of any good company is its employees. St. Charles Flying Service, Inc. has a staff of courteous, professional and highly experienced people ready to serve all your aviation needs. We all appreciate your business – let us know how we can help you!
Administration
Pilots & Instructors
Maintenance
Line Service
St. Louis 2014 CFI of the Year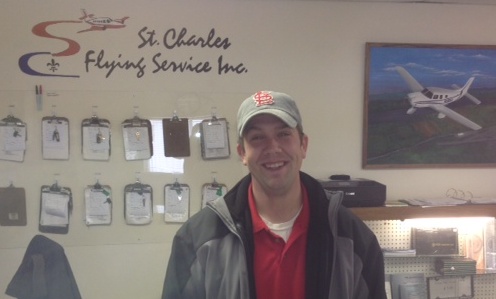 Nick Loftus, Chief Flight Instructor at St. Charles Flying Service was recognized as Flight Instructor of the Year at this year's Midwest Aviation Conference & Trade Show hosted by the Greater St. Louis Flight Instructors Association.
With the receipt of this award, Nick is now qualified to represent the association in the National Flight Instructor competition later this year. Four years ago while working for St. Charles Flying Service Nick received the New Flight Instructor award from the same organization.
"Each year the GSLFIA recognizes a flight instructor who has in that time consistently demonstrated professionalism, focus on safety, participation in public aviation education, ability to adapt to students learning styles, and support of the local aviation community. The selected CFI is an aviation professional who will influence their peers to obtain and maintain the same professional standards. The St. Louis Certificated Flight Instructor of the Year will be supported and encouraged to apply for the FAA National Aviation Awards Program for the following year."
– Greater St. Louis Flight Instructors Association
"As owner and operator of St. Charles Flying Service I consider it a privilege to have Nick representing our organization and hope he does well at the National Level when that times comes."
– Dennis Bampton, President, SCFS