Welcome!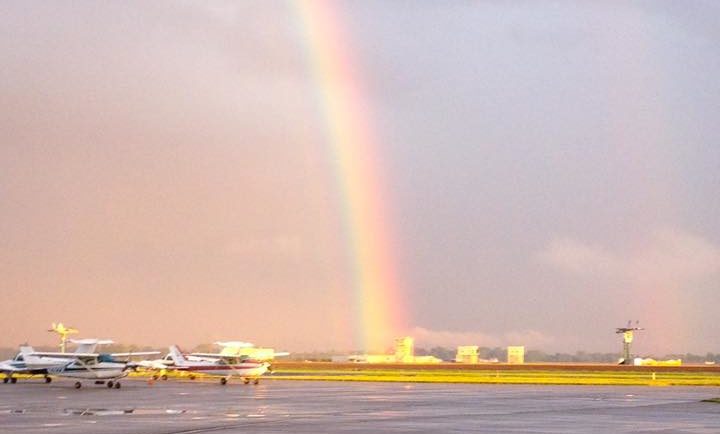 Since 1968, St. Charles Flying Service has helped thousands of people reach their professional and recreational aviation goals. Our flight school is the only FAA Approved Part 141 Flight School in The St. Louis Metro Area, offering flight training in single and multi-engine aircraft from Light Sport to Airline Transport Pilot, ground school courses, VA approved flight training utilizing your GI Bill and more. At St. Charles Flying Service you'll get superior training from highly-trained instructors in a friendly, professional environment. Stop Dreaming and Start Flying, at St. Charles Flying Service.

Click to Schedule Your Introductory Flight Lesson Today!
2019 Flood Update
| | |
| --- | --- |
| | Click to visit the National Weather Service's Advanced Hydrologic Prediction Service to check the current flood level and trend. |
---
Due to the severe flooding at St. Charles County's Smartt field, we've been forced to evacuate. Most of our fleet has been relocated to Creve Couer airport where flight lessons and rentals are still possible.
However, we have suspended ALL Groupon and intro flights until further notice.
The best way to contact us is by phone or email and not on social media. Facebook is not being checked daily at this time. That said, we do encourage you to visit our page for updates. As we have news to share we will post to our Facebook page and web site.
All phone calls will result in messages being taken as we are not all in one specific location. Please be patient and we WILL get back to you.
The water is showing signs of receding, and National Weather Service predictions indicate a steady downward trend. However, we expect be dislocated for at least 2 to 3 weeks. Again, thank you for your patience, prayers, and support. We sincerely appreciate it.
Flight Training Loans Available
Wondering how to finance your training?
Here are several options to investigate.
SCFS Financing through SURV Credit
Aircraft Owners and Pilots Association (AOPA) Financing
Full Service Fuel
Aviation Weather

Click for local area METAR and TAF