Welcome!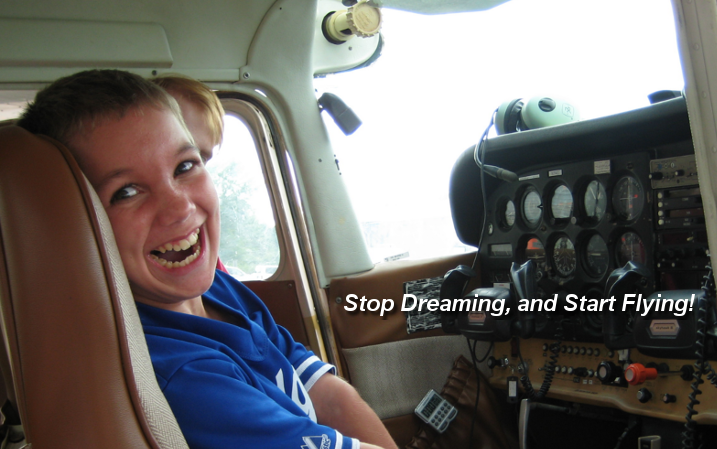 Since 1968, St. Charles Flying Service has helped thousands of people reach their professional and recreational aviation goals. Our flight school is the only FAA Approved Part 141 Flight School in The St. Louis Metro Area, offering flight training in single and multi-engine aircraft from Light Sport to Airline Transport Pilot, ground school courses, VA approved flight training utilizing your GI Bill and more. At St. Charles Flying Service you'll get superior training from highly-trained instructors in a friendly, professional environment. Stop Dreaming and Start Flying, at St. Charles Flying Service.
Click or Call to Schedule Your Introductory Flight Today!
Support the Growth of General Aviation
SCFS supports this legislation. We're asking you to contact your elected officials in the United States House and Senate and ask them to co-sponsor these bills. EAA has made this easy; just click the red Take Action button and they'll help you!

Read More About It…
AOPA Awards SCFS Outstanding Flight School Honor
We were excited in January of 2014 when Nick Loftus, our Chief Flight Instructor, was awarded St. Louis CFI of the Year at the 10th Annual Midwest Aviation Conference & Trade Show.
Then, on October 4th the Aircraft Owners and Pilots Association (AOPA) presented its third annual Flight Training Excellence Awards to top flight schools and flight instructors. This year more than 3,600 flight students participated in the voluntary AOPA online poll.
Out of an evaluation of 1,447 different flight schools, St. Charles Flying Service is extremely honored to learn that we are one of just 10 flight schools in the United States to receive the title of "Outstanding Flight School"!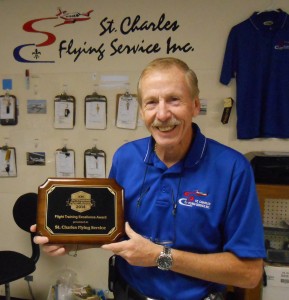 SCFS President Dennis Bampton with the AOPA Award.
Click image to read plaque.
Thanks to all our customers who voluntarily reviewed their flight training experience with us through the AOPA online poll which led to this honor. We are committed to excellence in aviation, and your vote of confidence in our ability to help you reach your goals speaks volumes.
Airport Activity
Too cold to fly? Then come inside and take advantage of our
FAA approved Redbird flight simulator!

Private Pilot students can use the simulator to log up to 2.5 hours of experience for basic instrument training with a CFI
Students working on their instrument rating can use the simulator to log up to 10 hours of simulated IMC training with a CFI
If you are already Instrument Rated, you can use the simulator to log instrument experience without a CFI (if current)
Click here to learn more about how you can take advantage of this FAA approved Basic Aviation Training Device to save your training dollars while building proficiency.
Full Service Fuel
Aviation Weather

Click for local area METAR and TAF