Welcome!
Since 1968, St. Charles Flying Service has helped thousands of people reach their professional and recreational aviation goals. Our flight school is the only FAA Approved Part 141 Flight School in The St. Louis Metro Area, offering flight training in single and multi-engine aircraft from Light Sport to Airline Transport Pilot, ground school courses, VA approved flight training utilizing your GI Bill and more. At St. Charles Flying Service you'll get superior training from highly-trained instructors in a friendly, professional environment. Stop Dreaming and Start Flying, at St. Charles Flying Service.
Click or Call to Schedule Your Introductory Flight Today!
It's Here - SportStar N919LA!
The long awaited replacement to SportStar N407EV is now available. The conditional inspection has been completed and it went online Wednesday, February 26.  This plane is a significant step up from our previous SportStar and boasts a new brake system, new nose gear steering system, greater useful load, a longer fuel range, vortex generators for more stable flight at slower speeds, better avionics, and electric trim. In fact, these features enable it to be used for Private Pilot certification as well as for Sport Pilot certification.  Here are some pictures of this beautiful aircraft taken when our maintenance director and one of our charter pilots flew to its previous home to look it over from spinner to tail.
The SportStar is a Light Sport Aircraft; one of two LSA's in our fleet. They are used by folks who have a Sport Pilot certificate. This certificate costs less too obtain and takes fewer hours to complete. If you have a valid driver's license and a desire to fly, the Sport Pilot certificate provides an affordable entry point into the exciting world of general aviation. Click here for more information or call us today!
 AOPA AV8RS Program

Got a teen with an interest in aviation? Direct them to AOPA's AV8Rs program. AOPA AV8RS are the "pilots of tomorrow." To learn more about this teen-oriented program, click the image above. FREE membership for teens ages 13-18!
St. Louis CFI of the Year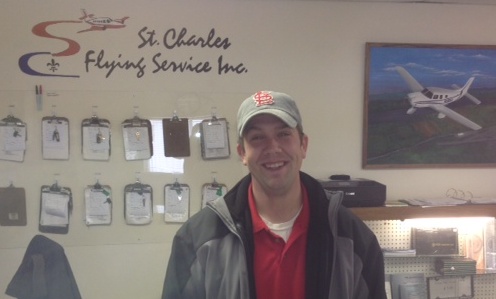 Nick Loftus is the Chief Flight Instructor at St. Charles Flying Service. Nick was recognized as Flight Instructor of the Year at this year's Midwest Aviation Conference & Trade Show hosted by the Greater St. Louis Flight Instructors Association.
With the receipt of this award, Nick is now qualified to represent the association in the National Flight Instructor competition later this year. Four years ago while working for St. Charles Flying Service Nick received the New Flight Instructor award from the same organization.
"Each year the GSLFIA recognizes a flight instructor who has in that time consistently demonstrated professionalism, focus on safety, participation in public aviation education, ability to adapt to students learning styles, and support of the local aviation community. The selected CFI is an aviation professional who will influence their peers to obtain and maintain the same professional standards. The St. Louis Certificated Flight Instructor of the Year will be supported and encouraged to apply for the FAA National Aviation Awards Program for the following year."
- Greater St. Louis Flight Instructors Association
"As owner and operator of St. Charles Flying Service I consider it a privilege to have Nick representing our organization and hope he does well at the National Level when that times comes."
- Dennis Bampton, President, SCFS
Aviation Weather

Click for local area METAR and TAF